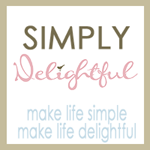 Simply Delightful Blog Designs
is having an awesome two day special.
Place an order today or tomorrow (8/3 - 8/4) for anything, buttons, headers, premade template or custom blog design, and get HALF OFF your order!
I will do a designer show case on them at a later date, but I wanted to let you know about the sale since it is for just a short time. If you need a new blog design, a button or any other design elements made, take advantage of this great sale.
Here are a couple of her adorable premades:
Attention designers:
If you have a sale or special going on, let me know and I'll advertise here for you.
Looking for a design giveaway to enter?
Check out the
Giveaways page
; two new ones were added today.
Beautiful Blog Series post coming up in this afternoon so stay tuned!