Last week I asked for readers to share blogs they thought were beautiful and if they would like to write a guest post at BBD. Bekah was the only one who took me up on the offer, and she has done an wonderful job!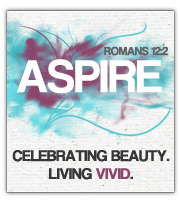 This week's Beautiful Blog feature is Aspire, a blog formed a little over a year ago by a

thirteen-year-old

girl named Hannah.

It's a place where she shares her musings on her faith, her daily routine, and her life.
What I (a follower since it was first started) love about Aspire:
The background is simple, but elegant and a fun design.
Engaging and personal posts that keep you coming back to read more.
It's easy to read—white background, organized sidebars.
Aspire is very organized and efficient, with a navigational bar in the header, and archives and labels near the top of the sidebars.
The site loads quickly.
Tag line in the header so that you know immediately what the blog is about.
Follower gadget is up on the top of the page, so it makes it very easy to sign up as a Follower.
Her posts have lots of variety, which keeps the blog interesting and fun.
Hannah designed her own blog, being self-taught in html code and design.
She also has designed my own blog, and made countless blog buttons for others.
From Amanda:
Congratulations, Hannah, on having such a beautiful blog and beautiful followers who love you!
If you would like to share this feature with your readers, here is a button for a post or sidebar.
Thank you, Bekah, for sharing Aspire with us. You are also a talented young blogger, and I am glad to have met you!
Please Note: To see more beautiful blogs, head over to Designs So Pretty, where a beautiful blog is featured almost every day!