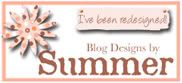 While I love using free templates, I was getting tired of the pink and green bubbles. So, Summer of
Designs by Summer
whipped up this gorgeous header for me and I am simply thrilled with it!
It's amazing how much a beautiful header can enhance a blog!

Now, please excuse the mess around here, though, as I will be moving things for a little while as I tweak the template (changing out from the Made by Madeline to a plain three column template). Also, I will be experimenting with colors for the background, thanks to a great post by "Old Dame" Penniwig.

Wondering how you can tweak your template, too? Simply go to one of the sites I mentioned in the post before this, or that are listed in the left sidebar. You can do it!
Special Note: Just noticed the header overlaps some of the text when viewed in Internet Explorer (I have been using Firefox more lately). I am working on fixing this problem.